The beginning of something beautiful
Leo Lemmens is a Belgian artist born June 25, 1949 in Mortsel, Antwerp. He developed his talent for art at Sint-Lukas in Brussels and at various art academies in Belgium. Leo is known for his skill as a portrait painter and his ability to depict people, horses and dogs in a very realistic way.
He has been a member of several art circles and has exhibited in various countries such as; Belgium, the Netherlands, Austria, Germany and America.
Through Marc van Eeckhoven, Leo came into contact with Jan Stalmans (manager Paul Mara). Jan's recognition contributed to Leo's growing fame and success as an artist.
With his passion for colors and craftsmanship, Leo Lemmens manages to appeal to a wide audience. His artworks bring wonder and touch the emotions of the viewer. Discover the enchanting world of Leo Lemmens' art and get carried away by his creations.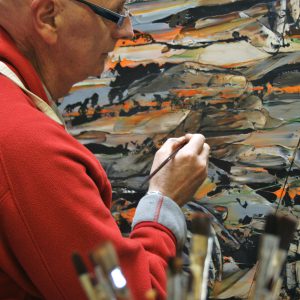 Leo Lemmens has his own unique style, magical abstract realism . His current works, made with acrylic paint on canvas, combine realism and mysticism in an abstract play of colors.
He wants to guide the viewer in a journey where the artwork gradually reveals itself and sparks personal discoveries.